We are only a few hours away from 2015. If you don't have plans, it's not too late to make some. Orlando is a great city with a lot to do. First and foremost, it is important to be safe. If you are going out, make sure you go out with family or friends and use taxi service like Uber or Metro Cars if needed. AAA also offers a service called Tow To Go that offers a free and confidential local ride for AAA members and non members until 6:00 AM January 1st. free and confidential.
Here are four things you can do to bring in the new year.
1. Check out hotel celebrations. Every major hotel will have a New Years Eve Party. Here are a few links
a. The Four Seasons Orlando. See our blog post about this new hotel.
b. The Hyatt Regency Orlando on International Drive. See our blog post about this hotel.
d. The Waldorf Astoria Orlando
2. Go to church. Churches around town will have a mass service or a New Year's Eve celebration. It's a great way to get a positive message before the new year. Our church, Dream Life Center, has a New Year's Celebration. Here is the invitation.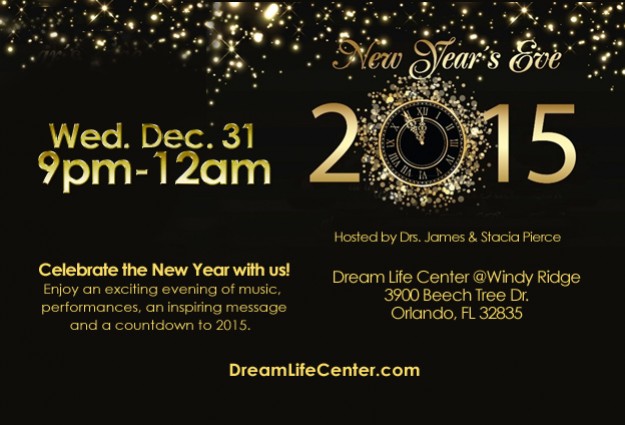 3. Go downtown Orlando
There is the Aloft hotel, which always has activities. A ton of restaurants and clubs. Also this year Billy Joel will be performing at the Amway Center tonight at 9:30 PM. Get tickets through Ticketmaster.
4. Go to Universal Orlando
Islands of Adventure closes at 11:00pm on New Years Eve. Universal Orlando closes at 12:30am. There is a laser show and fireworks at Universal. You can even enjoy Universal CityWalk. There is a big countdown and fun.
CityWalk offers a number of nightclubs and bars. Most have a cover charge.
4. Hang out at Disney
The Magic Kingdom, Epcot and Hollywood Studios are all open until or past midnight. There will be family friendly parties, fireworks and festivities to help you bring in the new year magically.
You can also go to Downtown Disney. There are restaurants and night clubs there as well.
Whatever you do be safe and have fun.